Here is a recap of our KOTQ meeting in Las Vegas January 16-17th, 2016.   First, thank you for allowing me to serve as Fear 'an Tigh for this special event.  I had a blast picking out the tasting lineup and making the arrangements.   Also, I'd also like to thank everyone that was able to make the trip.   In total, 7 members of the KOTQ Chicago Chapter were present, and we also had 6 guests join for the festivities.   So, in total we had 13 that were able to attend the tasting, and although it sounds like an unlucky number, I would say that our trip was anything but unlucky.    All of our single malt scotches survived the flight, and I think most of us ended Saturday evening on the positive side in the casino!    I remember yours truly on a heater at the Venetian craps table that most of us were able to ride.   Unforgettable!
To recap, the tasting lineup for the evening included six well-received, other-worldly expressions of at least 18 years of age.   After 1/2 oz tastings and a discussion of each distillery, I asked each of the guests in attendance to rank sort the expressions in order of preference from 1 to 6.   The lowest cumulative score will be crowned the favorite of the night.   The rating scale is more a reflection of our matter of preference than a deep evaluation about the quality or taste profile of the spirits.    Each whisky has a different taste profile, and I wanted to see how our group profiles against these six outstanding single malts.
The 6 single malts in the lineup, in order of tasting, were:
Springbank 21 (2015 Release)
Ledaig 18
Talisker 18
Balblair 1983
Glenglassaugh 30
Macallan 1989 18 yo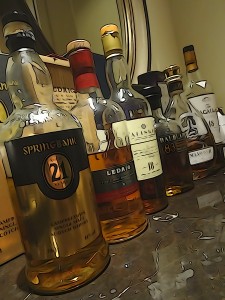 In the end, the group favored the Ledaig 18 most.  It also garnered the most first place votes with Macallan 18 right behind.  However, Glenglassaugh 30 wins second place in the tasting this evening based on having the most second place votes.    The Macallan 18 takes 3rd place.
To my surprise, Balblair 1983 fell a distant 6th.   Balblair may have suffered from being stuck in the middle of the tasting and following Talisker 18.   In fact, I suspect that the complexities and subtle fresh and floral nose of the Balblair were washed away by the prior three big-nosing whiskies.    Nearly everyone who came back for a secondary tasting on day 2 were stunned by how different and enjoyable the Balblair was when not competing in this lineup.   It's an exceptional complex whisky that lost out to bolder expressions for our challenging evening, but given a different day and tasting order, the results could have been reversed.
The Ledaig 18 was really the only heavily peated whisky of the evening, and combined with the oloroso sherry cask finish, it was an immediate winner with our group.     It was a bit of a surprise that the Ledaig 18 came out on top over all the others, but I would contend that it was because the taste profile of the Ledaig 18 was exciting and the most memorable.   None of us had experienced the 18 before.  Did the 'discovery' of the Ledaig 18 sway your vote?       I would not be surprised if there is a run on Ledaig 18 at the Chicago-area Binny's while they are on sale for $120.
Mostly, what we found is that it is terribly difficult to rank sort these particular single malts because the ordinal ranking does not do these equally important single malt scotches any justice.   The distance between 1 and 6 really isn't fair….maybe more like 1st is 1, 2nd is 1.1, 3rd is 1.2, etc.    Again, just a reminder that these results are not intended to be a measure of spirit quality but instead an attempt to profile our group preference.     You'd be a fool to pass up on the Balblair 1983 or a Talisker 18!
My only regret of the evening is that we did more of a 'speed tasting' than a methodical evaluation before we voted on our favorites.   We could have spent a little bit more time analyzing each whisky and taking meaningful tasting notes.   That's not to say that we did not analyze the taste profiles, but I think we would have taught the guests of the KOTQ a little bit more about nosing and discovering palate notes had we tasted fewer expressions and discussed them more methodically.    If there's anything I learned from this, I'd say that we should return to the discipline of taking better tasting notes so that we can share our experience online and offline.
Now that you have had time to reflect, do you have any comments about the results of the tasting that you'd like to share?   What did you like best about the Ledaig 18 or the Glenglassaugh 30 that justified their ranking within the lineup?