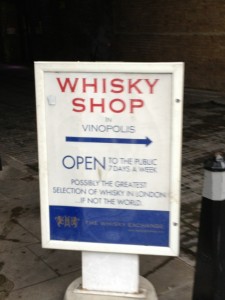 I just spent a week in London with my wife and I was fortunate that The Whisky Exchange was right in the heart of the one of the areas we hung out in. Near Shakespeare's Globe Theater and the Tate Modern Art Gallery is an elegant and modern wine and spirit exchange called Vinopolis. The Whisky Exchange, a mecca for single malt enthusiasts and a great place to source UK-only or hard to find bottlings, is situated right at the heart of Vinopolis. But, just in case you need reminding they keep this sandwich board advertisement out on the street.
Here I am doing my level best to look the part of a single malt aficionado. This is just one corner of the store. There are at least two glass cases of rare bottlings, one of which you see in this photo. The store is smart and open and you are surrounded by beautiful bottlings. It took me a good while to peruse the store and my wife was very patient throughout and helped me locate certain bottlings.
The shelf full of Talisker was of particular interest; showcasing a number of UK-only Taliskers (the first 2 listed were released in spring 2013) along with the discontinued 175th Anniversary bottling. "Storm" is their 10 kicked up a notch (or two). "Port Ruighe" (pronounced Portree) is their port finish. "57° North" is a limited cask strength bottling. "175th anniversary" we tasted in 2009 which as I remember is a rare beauty. I probably should have snagged some of these as the first three are only currently available in the UK; but I found out after I returned 🙁
I ended up buying three bottles. I wanted to complete Brother Brass's "Distiller's Edition" tasting lineup he is designing so I bought the Clynelish "D". I noticed right away "The Spirit of Lewis" expression which is the first release from the new Abhainn Dearg distillery on the Isle of Lewis which I know you cannot find in the States. I love island distilleries and I was excited to be able to pick this one up. Finally, Fettercairn is a difficult distillery to source in the US so when I saw the Fasque I just had to have it.